More artwork by Coloquix, London Road, 24 Dec.13
Artwork by Coloquix, Brown Lane, 7 Sept.13
Return of The Stabby Woman by Kid Acne, Westhill Lane, 4 Sept.13
Return of The Little Dancers, 4 Sept.13
But still waiting for the Artfags - August 2013
A graffiti welcome to Sheffield by West ? - Leadmill Road, Aug. 2013
More Booms and West at Leadmill Rd. August 2013
River Don Artwork
June 2013
Booms artwork at Moorgate Acoustics, June 2013
Pete McKee's artwork
at Fagan's pub,
Broad Lane
23 April 2013
Foundry's artwork
at Matilda Street
15 April 13
Richards Road, Heeley
December 2012
Richards Road, Heeley
by Bob, December 2012
Zest for Sport
18 Upperthorpe
Sheffield, S6 3NA
July 2012
OKeh CafÉ
116 Abbeydale Road
Sheffield, S7 1FF
Home of the Sheffield Aces Scooter Club.
Artist: Z ?
Former Tinsley Railway Station,
July 2012
St. Thomas'
Boys & Girls Club
Newman Road
Sheffield, S9 1LP
Artists:
EMA & Kid Acne
June 2012
Southern Playa,
14 Furnival Gate,
Sheffield, S1 4QN
Artists: Booms, Gzos, Jaer, Kisk, Teas, Rocket, Old Uncle Tom Cobley and all ...
June 2012
6A Washington Road,
Nether Edge,
Sheffield, S11 8BN
June 2012
Artists: BOK
West End pub,
Glossop Road.
June 2012
Artists: MLP
Munchys,
21 Chapel Walk,
Sheffield, S1 2PD
2010 or earlier.
Little dancers on Westhill Lane, from 2010 or earlier, was painted over June 2013 but replaced by Sept.2013.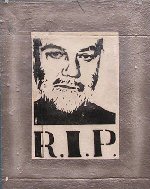 Horace strikes again.
Endcliffe Park lake
May 2010
The thoughts of Horace ?
By the former Bridge Inn, Heeley,
now the Sheffield Floor Restoration Co.
September 2010
Live and Learn
still hanging in there
since August 2009.